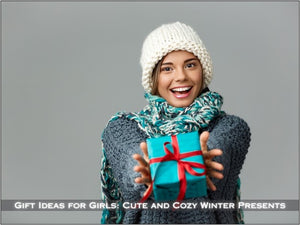 Gift Ideas for Girls: Cute and Cozy Winter Presents
As the winter season approaches, it's essential to consider gifts that offer warmth and style for the girls in your life. Soft, plush sweaters, elegant scarves, and trendy beanies are ideal choices. These items not only provide the necessary warmth during the cold months but also enhance her fashion statement. Opt for her favorite colors or distinctive patterns to personalize your gift, demonstrating your understanding of her preferences. Such presents are not only practical but also ensure she remains stylish and snug throughout the winter.
Warm and Whimsical Bedding
Long, cold nights call for bedding that offers both comfort and a touch of whimsy. Gifting a set of soft flannel sheets or a luxurious furry blanket can turn her bed into a haven of coziness. Choose designs that are either charming or soothing, depending on her taste. This gift does more than just add warmth to her room; it ensures her nights are enveloped in comfort and tranquillity.
Cozy Footwear for Indoor Comfort
Comfortable indoor footwear is synonymous with coziness. Soft, fluffy slippers or warm woolen socks are perfect for keeping her feet warm and can be found in various adorable designs and colors. These items are not only practical for the winter but also serve as a constant reminder of your thoughtfulness. They are ideal for those lazy, chilly days spent indoors.
A Good Book for Winter Evenings
For the avid reader, a captivating book makes a wonderful winter gift. Select a genre she loves, be it romance, mystery, fantasy, or self-improvement. Pairing the book with a cozy blanket or a hot chocolate mix can make her reading experience even more delightful. This gift is about more than just the book; it's about creating a warm, peaceful reading escape on cold winter nights.
Personalized Accessories for a Special Touch
Customized gifts add a unique and thoughtful element to your present. Personalized jewelry, monogrammed bags, or bespoke phone cases are excellent ways to show your care in the gift selection process. These items not only align with her style but also hold special meaning and are likely to be treasured as winter keepsakes.
Winter Delights: Sweet Treats and Warm Drinks
Enhance your winter gift with an assortment of sweet treats and warm beverages. Gourmet hot chocolate, artisan cookies, or a do-it-yourself baking kit can bring a smile to her face and warmth to her winter evenings. These indulgences are perfect for cozy nights in and add a sweet note to your thoughtful gifts.
Conclusion
Selecting the ideal winter gift for a girl can be an enjoyable and meaningful task. It involves considering her likes, preferences, and the need for comfort during the winter. At CareSoul, we value the joy of giving and the significance of well-being, particularly in colder seasons. With over five decades in the healthcare sector, we are dedicated to addressing our customers' evolving needs. As awareness of health and well-being increases, we are proud to contribute by offering high-quality products and services that reflect the essence of care and warmth in your winter gifting choices.
---