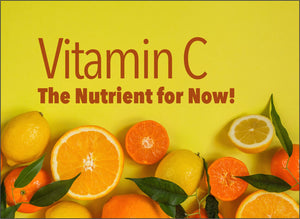 A Guide to Vitamin C: Health Benefits and Best Sources
Introduction
Vitamin C is a water-soluble vitamin and it is also termed L-ascorbic acid. As an individual, you cannot generate vitamin C. So, you must take it in your daily routine. As vitamin C is available in the form of supplements, citrus fruits, and vegetables. 
Why?
Vitamin C is beneficial for the immune system. As a result, it keeps you away from the most common infection named the common cold. To know the health benefits of vitamin C, you can read the post given below:
The insufficiency of vitamin C increases the chance of cardiovascular disease. In order to reduce the chances of death that occur due to cardiovascular disease, you need to take vitamin C supplements which enhance endothelial function and blood pressure levels. 
According to experts, an appropriate amount of vitamin C can fight against cancer. So, with the help of vitamin C supplementation, you can get relaxation in pain and get rid of cancer. 
During a survey, you might notice that high-dose intravenous administration of vitamin C was directly related to the increment in the life span of advanced cancer patients.
Researchers claim that age-related macular degeneration can slow down with antioxidant vitamins, minerals, and vitamin C. Along with this, vitamin C has improved the development of cataracts and diabetic retinopathy.
If you are looking to support of cellular functions of the innate and adaptive immune systems, then you need to take vitamin C as a food or supplement. In case you have a deficiency of vitamin C, you can easily come in direct contact with infections.  Usually, supplements of vitamin C are used to protect from upper respiratory infections. Apart from this, experts suggest taking vitamin C supplements daily, so that you can protect yourself from common cold infections.
Individuals with lower vitamin C are mostly suffering from cognitive impairment. While talking about the nervous system, vitamin C help to uplift neurotransmission. Apart from this, animal studies claim that if its supplements are taken routinely, then the chances of Alzheimer's can be reduced.
You can enhance blood glucose levels with vitamin C supplements. If you are a type 2 diabetic patient and started consuming vitamin C supplements, you can find that your fasting blood glucose level gets lower. 
With the help of vitamin C, you can protect your healthy skin in multiple ways including promoting collagen formation, and neutralizing damaging free radicals, specifically when it is used with Vitamin E. 
Final words
When talking about health-related services, CareSoul comes up first in mind. As it has served for more than 50 years. Caresoul offers several products which are good for our health including vitamins, supplements, skincare aids like lotions, moisturizers, and hair care products like shampoos, conditioners, and dyes. If you have reached once to our site, you won't look for any other site and the reason behind this is that our website makes sure that all the products are of premium quality. So, you can remain stress-free. If you still have any doubts, kindly mention them in the comment section.
---